Transmission Detailed DIY Flushing System Design
Jump to navigation
Jump to search
Back to WIS 27.00 Transmission - General
DIY Transmission Flushing System - Description
This DIY Transmission Flushing System was constructed using parts which are readily available from any hardware store. A transmission in-line connector and pipes was obtained from a wrecked M-B.
A parts list is:
two off 5L garden spray pump pressure bottles,
rubber tubing,
reinforced vinyl tubing,
brass coupling fittings,
hose clamps,
aftermarket in-line transmission fluid filter, and
a used in-line transmission connector and pipes.
The in-line connector and pipes from the wrecked M-B were cut and fitted to the clear vinyl tubing and became the connection points to the vehicle being serviced.
DIY Transmission Flushing System with 722.9 NAG2 7G-Tronic Connectors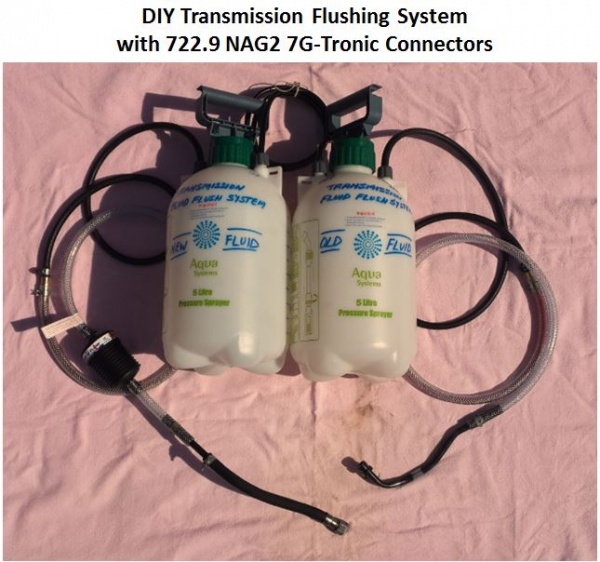 DIY Transmission Flushing System - Connection to Vehicle
During the service procedure it is simply a matter of opening the in-line connector in the transmission cooling supply line at the lower left corner of the radiator and connecting in the DIY Flushing System.
DIY Transmission Flushing System - In Use
Note new red fluid and old dark fluid in the clear vinyl tubing lines.
The exact procedure is described here. Yet to be added.